A quick return thanks to
Clayton
for such great deals over on Bartertown. His whole army, the one he threw into my original order of Darius, Ironclad, Centurion (#2), and a Squire, ended up being a Max unit of Trenchers, UA, Grenade Porter, Chain Gun, Finn, Max Longgunners, a Lancer, and Nemo, Haley, and both poses of Stryker. I was really blown away by this "special bonus" as Clayton called it. Grim Angus was the least I could do.
The new acquisitions got me thinking about what my entire force would look like now, if I set them all up. I quickly sketched the whole thing out in Paint, while I was bored at work last week. Here is what I've got: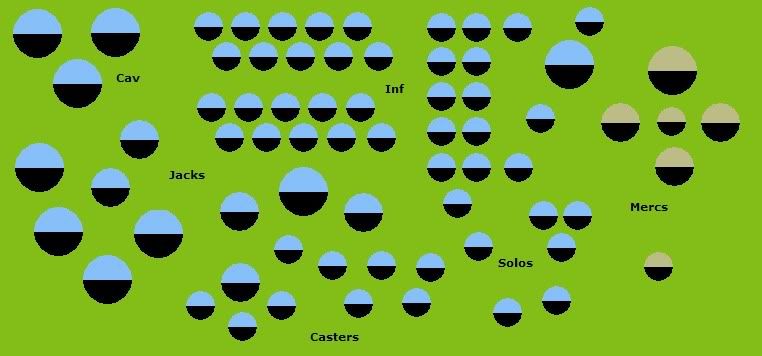 Starting from left to right, top to bottom:
Units:
Min unit of Stormlances
Max units of Longgunners (x2)
Max unit of Trenchers
Grenade Porter
Chain Gun
UA
Jacks:
Ironclad
Centurion
Centurion
Thunderhead
Lancer
Lancer
(behind the casters)
- Defender
- Charger
- Charger
Solos:
Finn
Stormsmiths x3
Journeyman
GMCA
Female GMCA
Casters:
Darius
Siege
Caine
Haley
Nemo
Stryker
Squire
Over on the far right, I have my mercs, consisting right now of Gorten's Battlegroup and the Alt Eiryss.
In all, by FA, this totals 2384 points MkI. In MkII, it is a slightly less impressive 142 points. My goal for September (which is rapidly coming to an end) is to strip, base, and primer my entire army. At the end of the month, I hope to be able to set the whole army out on a table and take a real picture, just to get an idea of the amount of metal I'm playing with now, after 1 year.
Thanks Clayton and Phill. This whole army is due to the two of you!